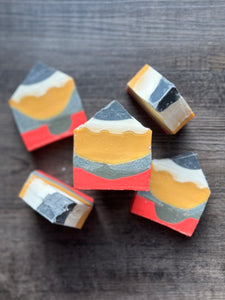 Indulge in the sweet aroma of nostalgia with our Back to School soap! This unique, complex scent has it all - an orangey sweetness, tangy cherry, and smooth vanilla, topped off with a hint of sandalwood. It's like taking a trip down Memory Lane with a bowl of Fruit Loops! Get ready for a sweet, cereal-filled experience!
WHAT IS INCLUDED: 
4 .5 oz - A creamy, exfoliating, moisturizing natural handmade vegan soap bar. 
1- Exfoliating Natural Sisal Soap Bag Pouch / Soap Saver Bag Bar with Drawstring 
Ingredients: Made with olive oil, shea butter, coconut oil, cocoa butter, white kaolin clay, fragrance oil, and mica.
How to use: Lather up then rinse clean!