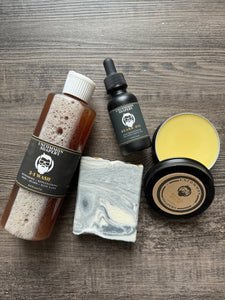 The perfect addition to your natural beard oil is also a great gift for bearded men. 
Our Mane Man gift set is pleasantly scented with our uncommon blend of oud, wood, smoke, spiced tobacco, herbs, and a subtly sweet finish. 
Our Ultimate Beard Kit includes:
8 oz 3-1 Hair, Beard, and Body Wash
4.5 oz Natural Soap 🧼 
1.2 oz Beard Oil
2 oz Beard Balm
SMELLS LIKE: REGAL. RICH. ADDICTIVE.