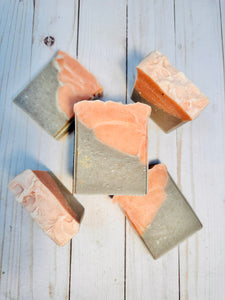 SMELLS LIKE: A romance fragrance true to the smell of authentic, fresh cut red roses straight from the floral shop. Complemented beautifully with hints of greens, violet and floral musk. 
FEELS LIKE: A creamy, moisturizing natural handmade vegan soap bar. 
WHAT IS INCLUDED: 
5 oz - Natural Shea and Cocoa Butter Natural Soap 
Ingredients:  Rose water, olive oil, shea butter, coconut oil, and fragrance.
How to use: Lather up then rinse clean!