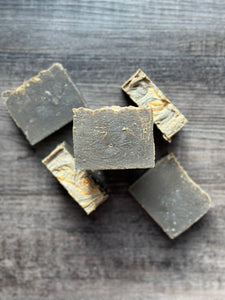 Pure Pine Tar Natural Handmade Soap is made locally here in Lake Las Vegas. Pure, authentic pine tar soap is made with 20% pine tar. This is one of the most potent soaps available right now. Colloidal oatmeal adds a soothing feeling and gentle exfoliation to handmade soap and it will leave your skin feeling smooth.

This all-natural soap has long been used for its medicinal benefits in treating skin and scalp conditions. It's lovely for the prevention of underarms, feet, and other strong body odors. 

Fragrance Notes: Smokey, Forest, and Woodsy 
What's included:
4.5 oz - Natural Shea Butter Soap 
Ingredients:  Aloe Vera, Sunflower Oil, Coconut Oil, Shea Butter, Pine Tar, Kaolin Clay, Colloidal Oats, Buttermilk and Fragrance oil.
A complimentary care card is available here
Customer Reviews
02/16/2022
Liz G.

United States
This soap contains the texture and creaminess that I look for in my soap bars!
Awesome experience, will continue to use the product, and tell all my friends about it!
03/01/2022
UnCommon Soapery
Thanks Liz! Your skin and I thank you!